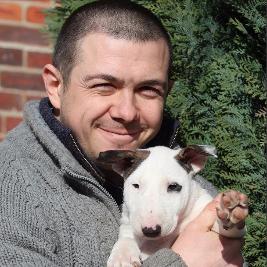 I qualified as a veterinary surgeon in 2005 and always had a special interest in animal reproduction. The childhood passion of breeding aquarium fish, budgies and fancy pigeons lead me to the dog show world and dog breeding. Together with my wife Lisa, we breed, show and judge Bull Terriers and Bull Terriers miniature. We enjoy working with breeders and we can support them with their reproductive needs without forgetting about the safety and the welfare of the bitch. We are strong believers in ethical breeding of dogs and other pets.
We are very happy to be associated with Sires on Ice Australia.
I am a member of the European Veterinary Society for Small Animal Reproduction and have a RCVS Certificate in Advanced Veterinary Practice (Small Animal Surgery).
Dr Dinu Catilina DVM, CertAVP(GSAS), MRCVS